Miss Mia & Co always strives to offer the best for our customers so we are using Sendle as our courier service to deliver your orders to your door. Sendle is Australia's first 100% carbon neutral delivery service which means that our net release of  CO2e into the atmosphere is zero.
Once your order has been placed we will strive to deliver your parcel within 1-3 business days. If your order has been placed by 6pm we will ensure your order will be completed and sent via post the next business day, otherwise any orders placed after 6pm will be completed and organised within 1-2 days. In general, same-city deliveries arrive overnight and deliveries to nearby cities within 2-3 days, however, please note on public holidays all deliveries may be delayed. Though very speedy, Sendle does not currently offer an express or guaranteed overnight delivery service. Sendle uses a road-delivery network that is efficient and speedy. Each order gets a unique delivery estimate that is shared with our customers to help keep track of their order at all times.
DOMESTIC DELIVERY 
Individual item
Same city (Melbourne)  $6.05
National (NSW, QLD, SA, WA, NT, TAS)  $7.65
Gift Box
Same city (Melbourne)  $9.54
National (NSW, QLD, SA, WA, NT, TAS)  $11.29
CUTOFF DATES FOR CHRISTMAS 2021
While the working year is slowing down, the parcel delivery season is speeding up.
We recommend you send your parcels by these dates to make sure they end up under the tree in time for Christmas.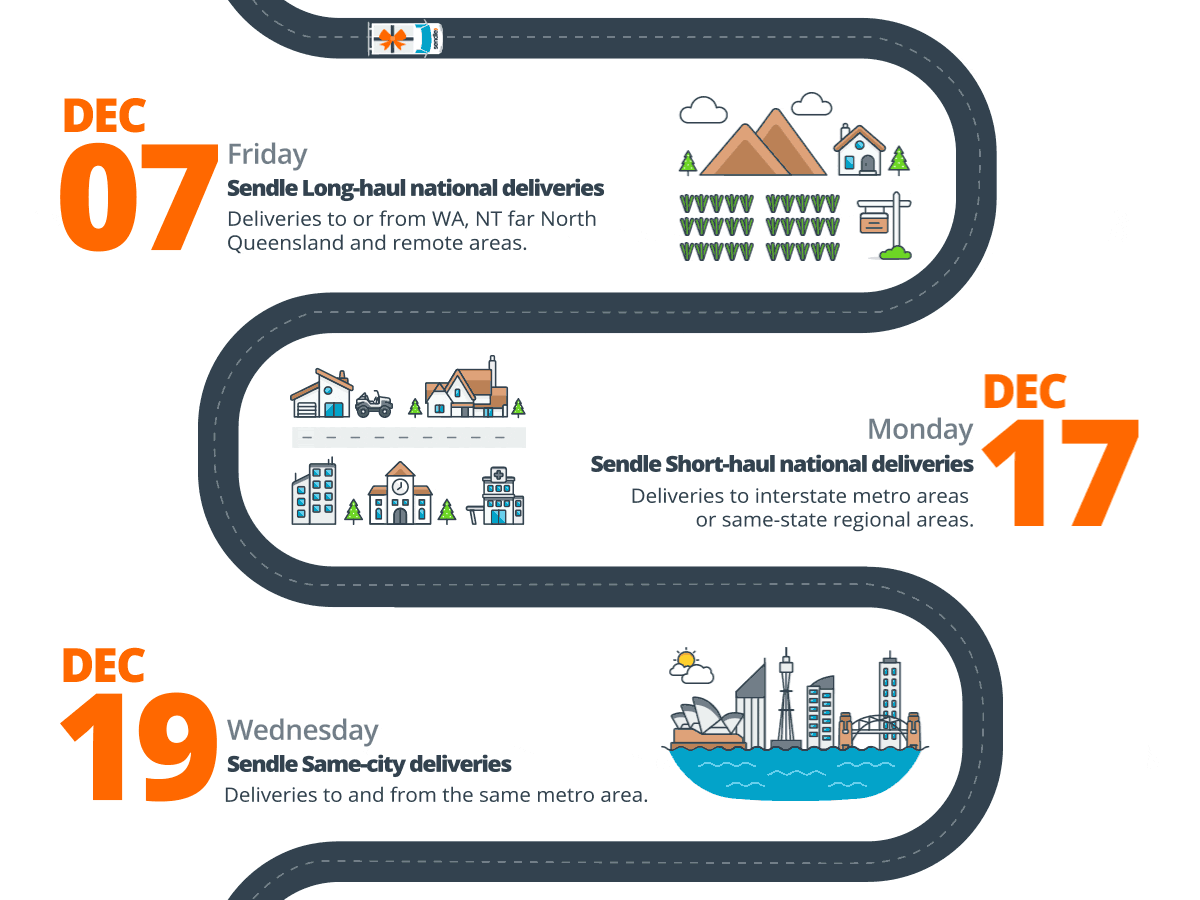 INTERNATIONAL DELIVERY (Not available until further notice)
Sendle Cover Policy
Sendle includes domestic and international shipping cover for NO extra cost. Please visit Sendle Cover Policy for further information.
Track Your Parcel
For parcel tracking please check your email as you should receive your order details with a tracking link once your order has been confirmed. Alternatively, please visit Track Your Parcel and enter your unique tracking code. This will provide you with a simplified view of your parcels tracking events.